Get the best out of your tax return with Money Simple
It's that time of the year again: the new financial year means getting tax returns done. Or, if you are like the many Australians who hate doing their returns, it means putting it off!
That dislike is backed up by data: a recent survey showed that most of us (69%) would rather choose having a meal with our in laws over working on our taxes. This was followed by working on the weekend (65%) and cleaning the whole house (58%)2.
In today's world, where we can now manage most parts of our lives with a few clicks on our phones, surely there is an easier way? Well actually there is but more about that later.
As many as 7 in 10 Aussies admit to making mistakes when it comes to their tax returns. Our mates at H&R Block suggest the biggest potential pitfalls include poor record-keeping of income and expenses, not setting aside sufficient funds to meet tax obligations and not seeking professional advice early.
And while we might make a mental note to Marie Kondo our filing system every year, somehow work and life just always gets in the way and too often the manual process of looking through several bank statements takes too long, and often results in omissions and unintended mistakes. All in all, there is up to $300 million in unclaimed tax3.
But new tech can help you save time, effort and improve the accuracy of your return submissions.
Here's how Money Simple helped David, a busy 40-year-old IT manager, cut his tax admin in half with just five steps:
He logged into his Money Simple account (through Credit Simple) and selected the relevant banks and accounts
He picked the dates for which he wanted to tag expenses as tax deductible and clicked on the relevant transactions to tag them
He double checked what he could and couldn't claim and was able to tag transactions
He downloaded and saved the data, all beautifully tagged and in one place
He shared the file with his tax agent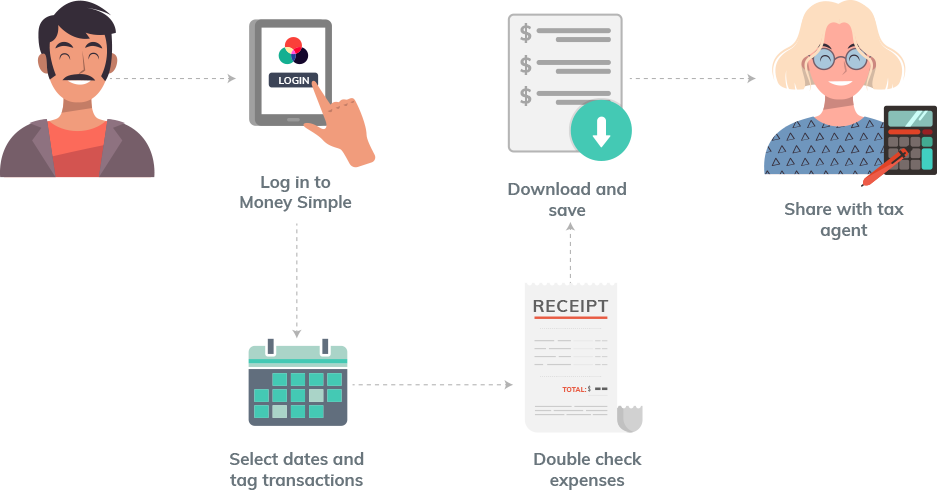 By doing this, David cut his tax admin time in half and was able to automatically pick up every relevant transaction. No mistakes and no manual errors! He was able to identify relevant transactions accurately.
When the average tax refund is almost $3,000 (from 10 million refunds), it's worth getting on with it4!
To sign up to Money Simple or find out more about how Money Simple can help you with your finances, click here.
---
2 https://www.hrblock.com.au/tax-academy/doing-tax-is-a-chore
3 H&R Block, Australians missing millions in unclaimed tax, https://www.hrblock.com.au/tax-academy/australians-missing-millions-in-unclaimed-tax
4 https://www.abc.net.au/news/2021-07-09/tax-time-ato-refunds-deductions-work-from-home-expenses-2021/100277188