September 15 Economic Update: café culture booms in the 'burbs
Credit Simple is part of the illion group of companies. illion has partnered with AlphaBeta to create a fortnightly economic update, and we think you'll find it useful in these strange times.
New data released today shows the important role coffee is playing in helping COVID-weary Aussies cope with the daily grind.
Whether it's a time-honored cappuccino or a trendier macchiato, caféphiles in Sydney and Melbourne continue to feed their cravings for fresh ground caffeine in the suburbs.
Sydney suburban café spending is up
While it's true that coffee consumption in the Sydney CBD has fallen, the traditional latte lines of Sydney have increased their suburban café spending, with the eastern, southern and northern beaches all seeing rises in spend of up to 20%. Waverley is the standout, with coffee consumption up around 50%.
Further out, most suburbs have seen an increase in café spend consistent with a large part of the population working from home, particularly through to July.
This data shows that if working from home continues over the next year, we will entrench a new vibrancy in the economic activity of our suburbs.
And if the trend continues, we will see other local business impacts strengthen in suburbs, including more small businesses and smaller retail precincts thriving.
Rockdale, Botany Bay, Ku-ring-gai and the inner west of Sydney have shown the largest declines in spending.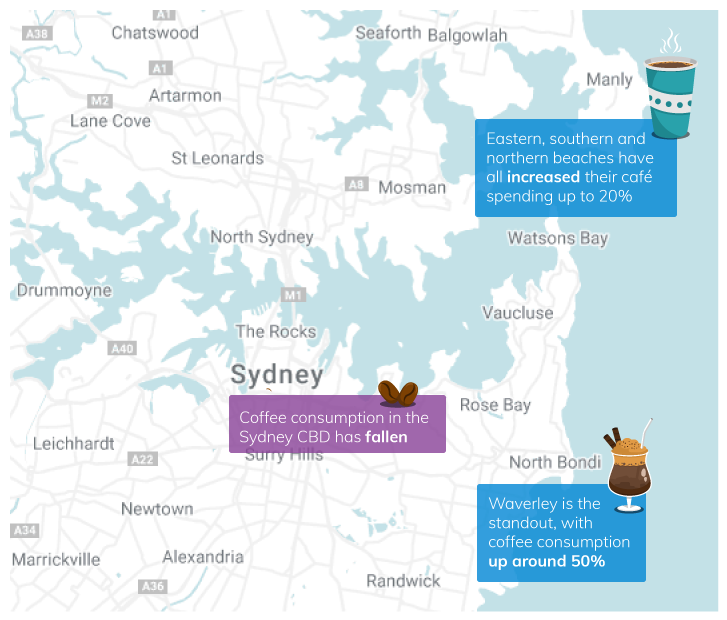 Meanwhile in Melbourne, café spending varies by LGA
Melburnians working from home in strict lockdown are still frequenting their local cafés in droves, with wealthier areas such as Bayside showing a 40% increase in café spending.
It appears that in both Melbourne and Sydney, the wealthier 'latte-set' have found creative ways to continue to meet their daily caffeine craving.
While café spending is up in many places in Melbourne, it's a different story in the Monash Local Government Area (LGA), where Monash University students are hard to find and coffee consumption has plummeted almost 50%.
And in a sign that COVID concern is overriding caffeine addiction, the City of Melbourne and Port Phillip (home to large offices on St Kilda Road) have seen at least 25% drops in spending. Northern parts of the city are either flat or slightly down, particularly in higher case COVID areas such as Whittlesea.
After such a challenging year, it's likely that many of us will be drinking more coffee just to keep awake when we kickstart the economy again.
Further high-level summary data is available here.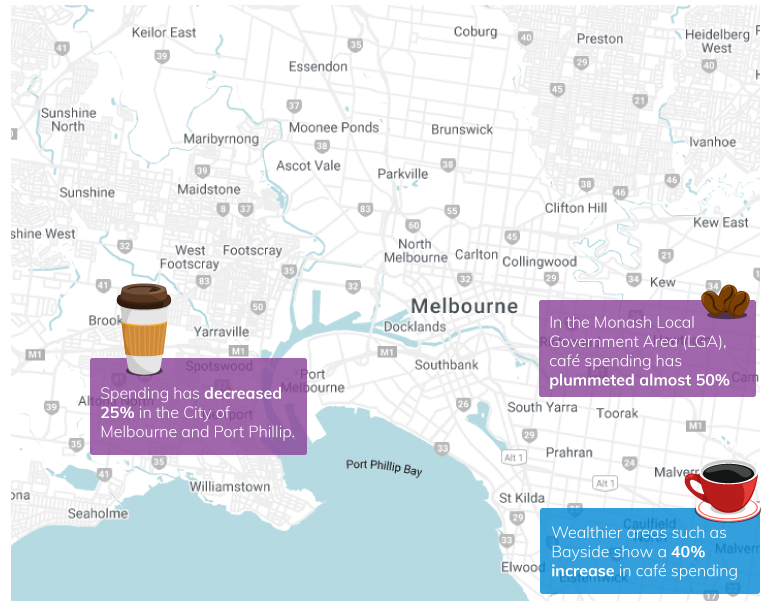 Find out more
As COVID-19 continues to impact the economy, illion is working with AlphaBeta to provide you with weekly insights on the current state of play. Want to know more? Further data is available here.